May 27th
Charlotte slept great, and only got up a couple times to use the restroom. Our morning was rough and she had a difficult time keeping anything down. They added some Benadryl to her anti nausea meds and she went back to sleep. All morning I was dreading 10:30, we were supposed to get an IV inserted to inject the dye for her scan tomorrow. Last minute we got the message that radiology planned on doing it through her PICC line! Such a relief!
After returning from the injection, Charlotte wanted to walk around. She played some and took a cat nap/rest. She wanted quesadillas for lunch and ate quite a bit of them. She asked to go outside and they gave us the ok! There is a small play area that we were able to take her to. At first she was a little unsteady playing and climbing (but that's only natural since she's been in bed most of the days) it was so nice to watch her and see her eyes light up going down the slide.
As it got later my sweet happy Charlotte was back. Lots of kisses, thanking me for anything in sight, and telling me how much she loves me. She had a huge appetite for fruits and nuts.
Tyler and I decided it was time to start talking about what was going on and why we were at the hospital. I started by asking if she knew why we were here, she responded "To see my doctors." I asked if she knew what the doctors were for and she said "To make me feel better." I was in AWE! How does this young one know so much?!! I tried to continue the story but was interrupted with raspberries to my tummy and uncontrollable giggles lol. It was a good start for me.
Tonight I learned how to give her shots for when we go home. She will be getting them for 7-10 days after each treatment.
Tomorrow is the MIBG scan, she will be sedated during it. This scan will show us exactly where the neuroblastoma cells are in her body. Pray pray pray!!! For minimal traces, peace for Tyler and I, strength for Charlotte as she has already endured so much and has sooo much more ahead.
We are so blessed by all of the prayers and love we are feeling. I can not express our gratitude enough!! Thank you!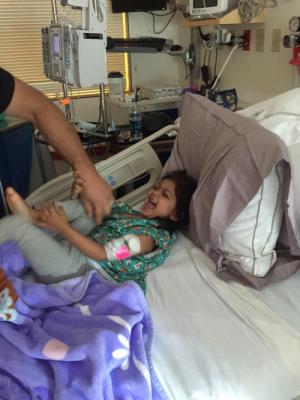 Who by him do believe in God, that raised him up from the dead, and gave him glory; that your faith and hope might be in God. (‭1 Peter‬ ‭1‬:‭21‬ KJV)