We are still in the hospital. Charlotte had another fever last night of 101.2. Today has been pretty miserable for her. She's hungry but can't eat anything comfortably. Her aunt brought her some pedialyte ice pops and she can kind of eat those. She is very swollen in the face and feet right now. We aren't sure if it's the amount of IV fluids or if it's from a lack of nutrition. We are praying that after cutting back on fluids she will be back to normal size.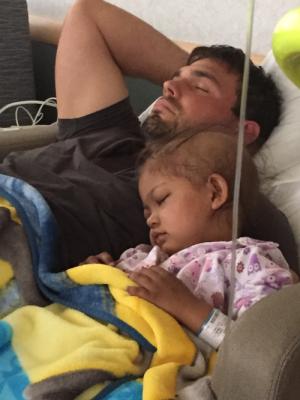 Charlotte and daddy got to spend some alone time together. It was so sweet to see them asleep when I walked in.
It seems our original plan of heading to Portland on Tuesday is put on hold. Her blood count won't be ready for stem cell collection.
Please continue praying for our sweet girl! She's so uncomfortable and hungry.