Charlotte had a wonderful Christmas and New Years. We were able to go to my family's house in New Mexico to celebrate and had quite the journey!
Before leaving town, Eleanor felt very warm and was lethargic. We were tempted to leave her behind but powered through and took her. We went to Dallas first, I was so excited to finally get some Tex Mex. Even with Tylenol, Eleanor's fever didn't break. She began coughing a dry bark. Throughout the night she kept waking, coughing and struggling to breathe. I took her into the ER and she was diagnosed with Croup. They gave her a steroid and a breathing treatment. I expressed my concern for Charlotte catching it and what the best route to prevent that would be. In the midst of it all, the PA told me she has been praying for Charlotte and keeps up with her journey. Wow! Of all the emergency rooms in Dallas, we chose one that had someone praying for our girl! Such a blessing!!
Later that day we flew to Roswell to get the Christmas festivities started. Charlotte was able to see all of her cousins, they played, laughed and ran around. They also built gingerbread houses and decorated them!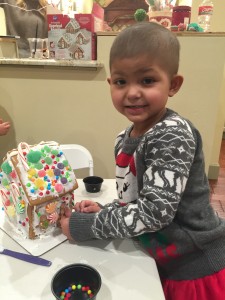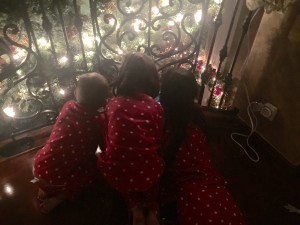 Christmas Eve came and our tradition of opening matching pjs was a pretty exciting time for Charlotte! She received a movie and blanket with her name on it!! Another Christmas Eve tradition is watching Santa leave presents under the tree. The kiddos have to be VERY quiet so Santa doesn't know they are still awake. They get to watch him walk in, leave presents, eat their cookies and milk, and then leave. This is the first year Charlotte really understood it all.
Christmas morning was so exciting for all!! There was lots of joy, laughter, and happiness.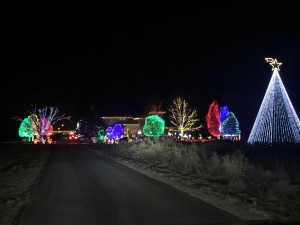 A couple of days after, the snow started. We are used to snow, but the wind and drifts were something new! In 24 hours more than 18 inches fell, there were 4′-10′ drifts all around. While it was a beautiful sight, it kept us stranded. There was a state of emergency called and all of the highways in and out of Roswell were closed. We ended up sticking around until Friday, 5 days later then planned.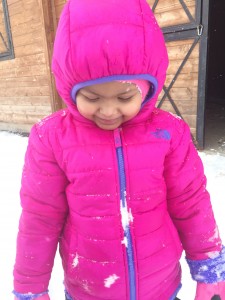 We made it home, unpacked and were able to spend a few days enjoying each other and our space. But we quickly packed up to head out Tuesday morning to New York.
Through all of the holiday madness, after a lot of pushing and preserving, we were informed the insurance agreed to MIBG therapy!! What a PRAISE!! We already had another insurance lined up to start January 1st but there was no guarantee we wouldn't run into similar problems. Because of the approval, we were able to schedule all of her scans and treatment coming up!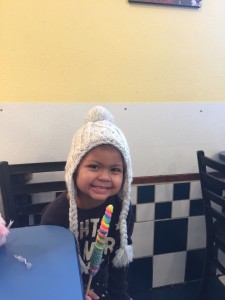 Wednesday through Friday of last week, Charlotte had multiple scans. PET, CT, MIBG, brain MRI, and an echocardiogram. The results of these scans were similar to the ones in October. Even though they aren't as I had hoped (clear), we are still praising God there is no progression.
On Friday, I was informed before starting treatment, they wanted to do a stem cell harvest. As you all know, we have tried twice and failed. I was uneasy about agreeing to this. Mainly because Charlotte has to receive triple dose shots everyday. I feel as if we have done this so many times with no luck. After speaking with the doctor, talking it over, thinking, and praying the decision became very clear. With how much disease is in Charlotte's body, there is a chance she will need multiple stem cell rescues. Right now she has enough for 2.5. Starting Thursday the 7th she began her shots. We had to go in every day this past weekend and Sunday night, as well as tonight, for another shot that is supposed to help purge her stem cells.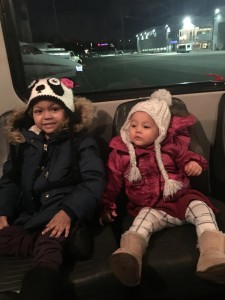 They hooked her up for the collection this morning and her Hickman catheter wasn't working. The amazing nurses Charlotte had tried for over 2 hours to make it work. The alternative would be surgery to replace her lines. I started praying, as this was going on, multiple people randomly messaged me letting me know they were praying for Charlotte. The nurse had one more thing to try, a medicine to unclot the line in case there was buildup. As she tried again, it wasn't working. I began to panic, dreading having to put this 3 year old through ANOTHER thing. They walked away, when they came back I asked, "So now what?" Their response was, "Hopefully it doesn't stop" I looked down and realized it was going!!!
Tonight, they called me with her results of collection. They pulled half a million, they wanted 10 million :-/ We will try again tomorrow afternoon. If more are harvested than today, we will collect again on Wednesday.
I apologize for the lack of updates! I kept trying to write and something would come up or I wouldn't have my computer. I hope to keep ALL of you updated more often. Sometimes I am able to post small quick updates on the Graced by Charlotte Facebook page. I know you all love our girl and we appreciate all of your words, prayers, and support (mentally, physically, financially, and spiritually)
"Give and it will be given to you. A good measure, pressed down, shaken together and running over, will be poured into your lap. For with the measure you use, it will be measured to you." Luke 6:38
PRAISES
The amazing amount of financial support! Thank you so much! It has been such an unexpected blessing! It is a definite example that God WILL provide.
The people we know and don't know who want to do what they can
Charlotte's health: over Christmas everyone who got sick had a fever, she never got one!
The insurance approving MIBG Therapy
Her braveness:  She did a 30 minute brain MRI WITHOUT sedation! 1-2 shots every day is not a fun thing
The support of family and being able to have both of our girls together through this
Her lines clearing so surgery wasn't necessary
Retrieving SOME stem cells when we knew zero was a HUGE possibility
PRAYERS
MORE stem cells!! Pray we get what we need
That NOTHING will delay treatment
Tyler arrives in New York safely
Charlotte is able to see the good through all of this
Her miracle
It feels so wonderful to be able to share with you, I could go on and on but I won't! Thank you again for everything and please keep our little fighter in your prayers.
"But they that wait upon the Lord shall renew their strength; they shall mount up with wings as eagles; they shall run and not be weary; and they shall walk, and not faint." Isaiah 40:31