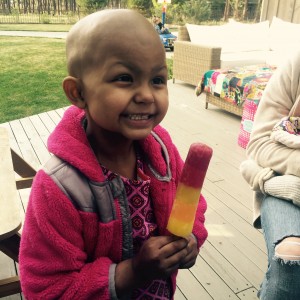 Our time home went way too fast!!
But I am so grateful for something.
My list of things to do was hardly touched. There never seems to be enough time in the days. But then as I watch the girls play in the sand box or laugh as they ride their car down the driveway, that list doesn't matter.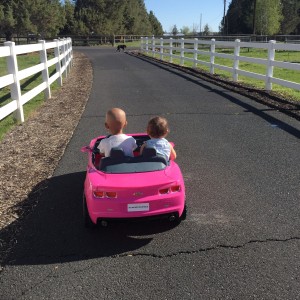 In our short time home, we managed to celebrate multiple birthdays including Charlotte's (who proudly tells you she is 4 now), visit friends, see lots of family, play, eat home cooked meals, at our table, as a family. We were able to lounge and do nothing. No worries of rushing to the hospital in the cold, wind, or rain. Not trying to figure out where to order food from or what to do to kill time.
It's been beautiful since we have been home.
Charlotte has LOVED being home.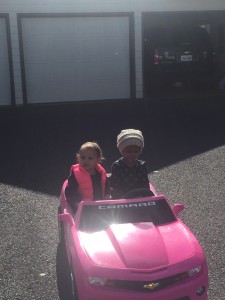 We headed to NYC in the wee hours of the morning Sunday. First a 2 hr and 30 min flight, then a 3 hr and 50 min one. Just me, Charlotte, and Eleanor, oh what a journey it was!! It's pretty impossible to keep a 21 monther to sit still, but mine, I was sure would be IMPOSSIBLE. She's such a busy bundle of joy to say the least!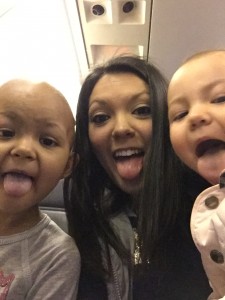 The first flight she fell asleep for the last hour, while Charlotte was furious that she couldn't get comfortable!! Before the second flight, we had some time to grab food. So as we got off the plane and loaded the 3 backpacks, purse, medicine bag, and 2 kids onto the double stroller, we were quite the scene!! We rushed through the Denver airport and Charlotte decided to walk. It's so great because she ALWAYS wants to ride but we were crunched for time and her turtle steps weren't cutting it. She decided she was tired of walking and Eleanor felt it was her turn. Well, this child is definitely the hare of the two, but her dance moves, twists, squats, and her vision of solely herself caused her to trip a few people and a crash. Ultimately, we made it, with a little bit of sanity left.
This week Charlotte will have scans and I will have blood work to prep for the next step in treatment. Oh how I wish and hope and pray that her miracle could be in these scans. That out of nowhere she could be clear and some normalcy would return to our life.
Charlotte knew we were headed back to New York. She didn't want to go, she wanted to stay home. We have talked and she understands why we must go back. We try to look at the positive and in my head I repeat over and over, "end result." THIS is why we are here. For the end result. No more cancer!
I'm hoping to find some fun things to do before treatment starts. We have been to the zoo quite a bit. American girl is checked off of our list as well as the Disney store.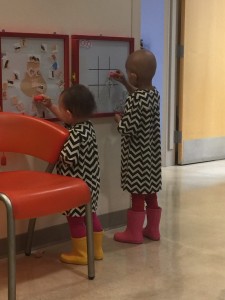 Wednesday morning she will have a brain and spinal MRI bright and early at 7 am. At noon she has an EKG, and then at 2 she will have her MIBG injection for scans on Thursday. Pray for peace. Scanxiety has officially hit me and I'm really struggling. Charlotte has begun throwing up again (one of her first symptoms at diagnosis and after learning of slight growth in a lower tumor) I am very afraid that there could be growth which is causing her to vomit. I can not let my fear show through, I never want her to be scared.
Please Pray for:
Charlotte's protection of germs and viruses
an easy adjustment back in NYC
clear scans or a decrease
no disruption in treatment
my headache to subside so I can be a better mama
all of our friends who are also dealing with this beast
peace for our family
strength as we are apart
Charlotte's miracle
Praising God for:
our unexpected time at home
keeping Charlotte healthy
the wisdom of doctors working to find something to help her and other kids
beautiful weather
a happy little girl
our support
"Blessed is the one who perseveres under trial because, having stood the test, that person will receive the crown of life that the Lord has promised to those who love him."
‭‭James‬ ‭1:12‬ ‭NIV‬‬
"So do not fear, for I am with you; do not be dismayed, for I am your God. I will strengthen you and help you; I will uphold you with my righteous right hand."
‭‭Isaiah‬ ‭41:10‬ ‭NIV‬‬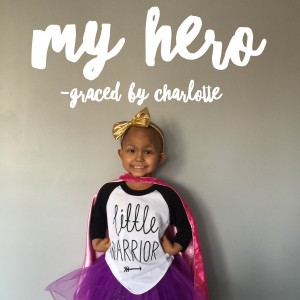 (This was done from my cell phone so please excuse the layout haha)