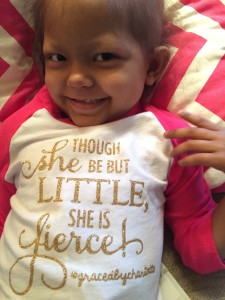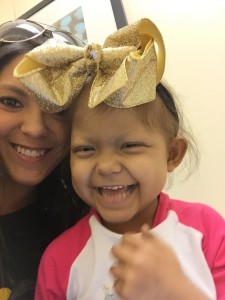 Time at home has been very nice. We were still struggling to control the vomiting but she did start to eat a little more. Tyler and I were able to go out to dinner a couple of times and meet up with some great friends. It's always great to be able to spend some time together.
Surgery has been postponed multiple times due to low blood counts. The 5th round of chemo really did a number on Charlottes poor body. After considering all of the time that had passed and would pass after recovery, the oncologist was worried about the large gap between treatment.
Therefore, surgery has been scheduled for October 22. I really struggled with this at first. I had my mind set that we were going to get this monster out of her body. And although I experienced a lot of anxiety leading up to the multiple surgery dates, I knew it was necessary. I had accepted that, only to learn it would be a MONTH later! It took some crying, praying, and words of wisdom to get me through but as we all know, God's plan is BIGGER. Bigger than all of this!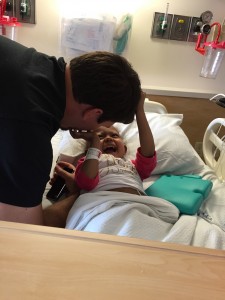 Originally scans and another bone marrow biopsy was planned for after surgery before round 6 of chemo. They have decided to do scans the week before surgery, and Charlotte has just finished round 6 of chemo!! She is exceptionally well, with the occasional angry moments. We have stayed on top of the nausea meds (she is only on 2 though!) and she hasn't thrown up yet!! She is laughing and playing, she is eating a little more but not enough to be considered a meal.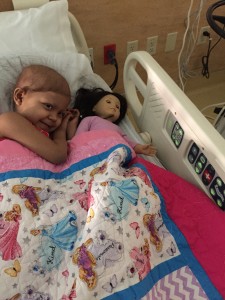 We are all so excited to get to spend some time at home before surgery. We are praying that she remains fever free so that we can avoid a trip to the hospital at home. The more time in our own beds, the better!!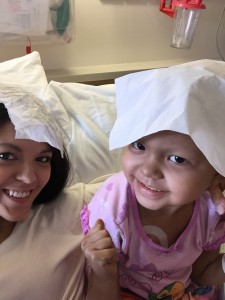 I feel so blessed and am in tears to see all the the pictures of people wearing the shirts for Charlotte! It is such a wonderful feeling to know so many people are hopeful, that stand with us and are praying.  THANK YOU SO MUCH!
Specific prayers we are asking for:
-Fever free time at home
-An appetite, a BIG appetite
-Strength for the upcoming events, physically, spiritually, and mentally
-Ultimately, Charlotte's miracle!
My personal prayer is that surgery was postponed for so long, that chemo alone could knock it out. So that when they look at the scans, their jaws drop in amazement that she is clear and her little body never has to be cut open. That we can move on to preventative steps for the future. I know that this is a HUGE request but I also know NOTHING is too big for our God!
"Then they cried to the Lord in their trouble, and he saved them from their distress.He sent out his word and healed them; he rescued them from the grave. Let them give thanks to the Lord for his unfailing love and his wonderful deeds for mankind."
Psalm 107:19-21