Yesterday was a tough day. Charlotte received her first antibody treatment, hu3f8. I knew it would be tough. I've been told a multitude of things by children and parents. Ultimately, every child is different. Different side effects, different points of pain, different times during the infusion that the pain hits, different lengths of pain, and different results.
We went into this, with no idea what to expect. No clue where Charlotte would fall.
Before the infusion began, child life sent the music therapy lady in. She wanted to find ways to relax Charlotte. With multiple soothing noise makers, songs, and games. She had a rainbow scarf that Charlotte really enjoyed playing with.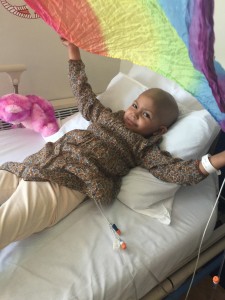 The nurse gave her every pre med I could think of as well as a dose of dilaudid. The infusion began and I didn't even realize it! Seven minutes in I asked if she had started, at the ninth minute Charlotte started to cry out and scream. She wanted me to hold her, then pushed me away. She squirmed and said "I can't do this!" I tried my best to encourage and remind her that she was brave and strong. They gave her a pain rescue and she closed her eyes. Her oxygen levels began to drop and they gave her oxygen. Her blood pressure was low and they gave her a saline bolus each time. I thought she had fallen asleep, but anytime we would ask a question, she would respond. Her tummy was rock hard and her legs wouldn't stop squirming, even 5 hours after the infusion. Charlotte eventually had 2 more pain rescues. With time, we learned she was having neuropathy and she was given a dose of gabapentin to help the pain.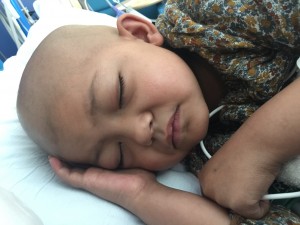 Charlotte is very swollen, even 12 hours later. I believe it's a combination of the antibody and all of the fluids she received.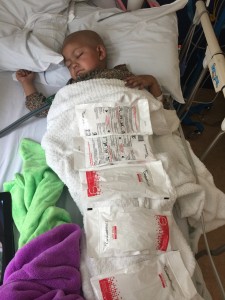 The doctors and nurses were very pleased with how "well" she did. And although I know it could have  been WAY WORSE, it was still hard for me to see. It was hard to hear her cries, her helplessness and confusion.
Today we will go to clinic to do a blood draw. She will also get a double dose shot of GM-CSF. Wednesday will be the second day of round one, Friday will be the last. She will have blood draws Tuesday, Thursday, Saturday, Monday, Wednesday, and Friday.
10 hours of hospital time and I'm EXHAUSTED! I can only imagine how Charlotte feels!!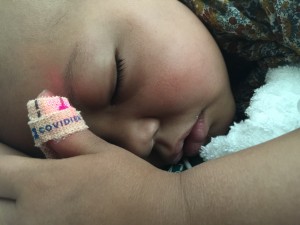 Please pray for:
minimal pain and side effects
peace, for all of us
that this treatment is working
Charlotte's miracle
Praising God
zero allergic reactions
getting us through day one
our precious baby girl
the wonderful antibody nurses
"And let the peace of God rule in your hearts, to the which also ye are called in one body; and be ye thankful."
‭‭Colossians‬ ‭3:15‬ ‭KJV‬‬
"Trust in the Lord with all your heart and lean not on your own understanding;"
‭‭Proverbs‬ ‭3:5‬ ‭NIV‬‬
---