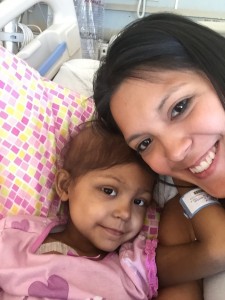 A quick little update, we are still in the hospital! Charlottes blood counts have just hit rock bottom and today we are transfusing platelets and red blood. Hopefully this will help her little body start making her own as we cannot leave the hospital until her counts continuously start to rise. Her fever and headaches are gone.
Unfortunately, the painful sores are back! They are in her mouth, throat, and stomach. She is on Morphine, IV Tylenol, and Benadryl to help ease the pain. I am also doing a natural remedy with honey that seems to be relieving  the pain. Usually when she experiences these, she goes DAYS without eating. This time she drinks the honey mixture, eats, drinks a little more, and eats a little more, PRAISE THE LORD! Yesterday the doctor also said it looks like they are in the healing process which usually takes 5-7 days before seeing this; Another praise!
We are so grateful for your prayers!