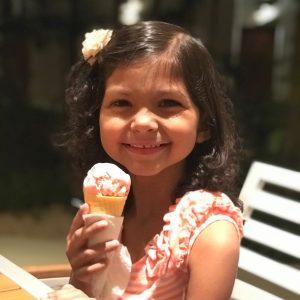 A lot of time has time has passed and I know many of you are wondering how Charlotte is doing. I have updated some on Charlotte's Facebook page.
First of all, her last scans showed to be stable, Praise God!
As most of you know, Charlotte has had a cough for over a year now. We have been searching for answers. Talking and seeing multiple doctors. After Thanksgiving, we met with a pediatric pulmonologist. He briefly reviewed her scans from the past year and said she suffers from pulmonary fibrosis, scarring of the lung. I have  noticed changes in her scans on her lung, almost every time. The oncologists and radiologists have always told us it was most likely inflammation from being sick. With time, we have learned that is not the case.
Most recently, after the new year, we met again with the pulmonologist and he said he closely reviewed Charlotte's scans. After reviewing he has come to the conclusion that at least 50% of her right lung is damaged. Naturally, my hope is that as she grows, her lung will grow and it will break up the scarring. I shared this with the doctor and asked if it was possible. He informed me that there is a great chance her lung won't grow and it is possible that the ribs that were radiated will lack in growth, possibly causing scoliosis later in her life.
Charlotte is now less than 35 lbs. She has always ranged between 38 and 39lbs. We are told that for Charlotte, just breathing is burning calories. I have been racking my brain, searching the internet, and reaching out to others on tips to help her gain weight.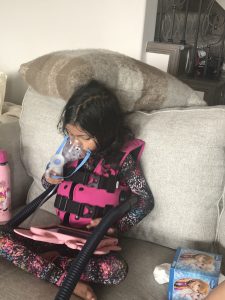 She is currently on an inhaler twice a day, Albuterol nebulizer 3-4 times a day, a RT vest along with nebulized tonic saline, and an inhaler with albuterol as needed. They have also tracked her sleep which will now require a true sleep study.
Charlotte is exhausted! Simply walking from the car into the house tires her. Walking up or down the stairs, cause coughing fits and lack of oxygen.
Last week, Charlotte was sent home from school due to a pulse ox in the 80s. We had never seen it that low before. Then on Saturday, while at a friends birthday party, where Charlotte was simply painting, her pulse ox dropped into the 70's. Poor girl could not breathe, and she becomes so frightened it's heartbreaking to watch. We had to leave the party early and allow her to rest. Monday morning came and so did another attack. But this time her lips started to turn purple and her pulse ox was in the 60's! I frantically called the doctor needing help. When Charlotte can't breathe, it looks like she is choking. So automatically, I want to perform the Heimlich but obviously that wouldn't help. They have decided to put Charlotte on oxygen throughout the night while she sleeps and as needed during the day when she drops below 90.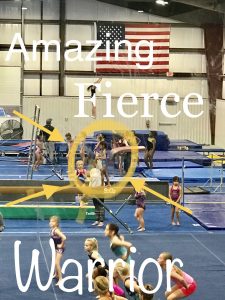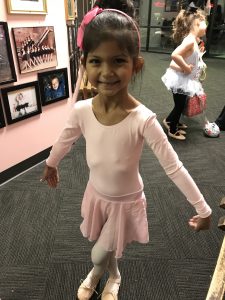 Putting the troubles aside, Charlotte has started gymnastics and ballet. At first, I hesitated, but I realized that I need to allow her to try and do these things. She loves both of these activities and will continue them until she feels like she can not. She is also excelling in school! My 5 year old is able to read, she adds, subtracts, and is beginning to count money. She can count by 2's, 3's, 5's, and 10's! She amazes me daily, I definitely don't remember learning this stuff in Kindergarten.
Many people ask me how I am doing. Life is hard and I have definitely been struggling lately. Struggling as a mother, as a wife, socially, physically, and even in my faith. I know God's plan is bigger and better than I will ever know or comprehend. I know he loves my baby girl more than I ever could. I find myself weak some days. Full of tears and WHYs?! Charlotte has endured so much, more than most adults do in a lifetime, in such a short time, when will it stop?! At times I am weak in trusting Him and satan is definitely taking advantage of it.
Charlotte will have a couple of scans on Friday. They have ordered a CT of her lung to check for any change. She will also have a PET scan to make sure that everything is still inactive.
Please pray for:
Charlotte's lung
her to gain weight
strength for me
a safe trip to NYC
inactive cancer
relief and answers to her respiratory problems
complete healing
Charlotte's miracle
Praising God for:
Charlotte's desire to be active
support
a child that smiles through the pain
Charlotte's faith
Charlotte's miracle
The name of the Lord is a strong tower; The righteous runs into it and is safe. Proverbs 18:10
Let us therefore come boldly to the throne of grace, that we may obtain mercy and find grace to help in time of need. Hebrews 4:16
Committing to live by this verse:
Fear not, for I am with you; Be not dismayed, for I am your God. I will strengthen you, Yes, I will help you, I will uphold you with My righteous hand. Isaiah 41:10