The Winter Wonderland benefit this past Sunday was beyond what anyone had expected!! It exceeded ANY goals that were made.
In the beginning, some were worried about how little time there was in finding the right location and planning the event. Once the location was set, so many people went into overtime planning. With multiple meetings, emails, texts and phone calls, everyone got busy!!
I personally had concerns in the beginning…
The high school was too big. While looking at it, I had no idea how they would be able to make it feel warm and inviting or to be able fill it up. After some other options fell through, this was the SET location.

We had so many donations!!! They had to turn some away as they came in too late and we didn't have enough space! 341 different types of items small and large were put out on tables for the silent auction. They ended up running out of space and had to improvise! Even with so many out, many more were set aside for the live auction. I didn't know how we would have enough people to buy everything!!
It snowed quite a bit the days leading up to Sunday. I was concerned the snow and the unplowed parking lot would hinder the turnout.
"For we live by faith, not by sight." 2Corinthians 5:7 NIV
NONE of my worries were accurate. GOD is ALWAYS faithful. Over 1600 people showed up, the place was PACKED!! The community, as a team brought in over $110,000 for our sweet girls medical expenses!! How amazing and what a praise!! There aren't enough words to express my family's gratitude to ALL that helped. From planners, to helpers, to donators, to bidders, to people who just wanted to help. Thank you!!! From the bottoms of our hearts.
With all of the bad going on in the world today, this is what America is about! This is what God is about. LOVE. UNITY. HOPE. FAITH.
We firmly believe that God is faithful, He does provide and this is a pure testament of FAITH. Thank you all!!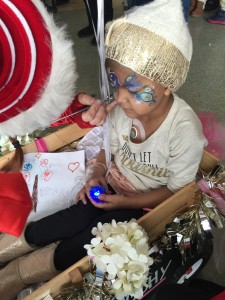 "And God is able to make all grace abound toward you; that ye, always having all sufficiency in all things, may abound to every good work" 2 Corinthians 9:8 KJV
19"And my God will supply all your needs according to His riches in glory in Christ Jesus. 20Now to our God and Father be the glory forever and ever. Amen." Philippians 4:19-20 KJV