Today Charlotte had surgery to get a Hickman catheter to replace her PICC line. Our check in time was 11 with surgery at noon. She ended up going into the operating room at 1:20. One thing that never gets easy is seeing them put her to sleep. 🙁
Two hours later, surgery was a success. Charlotte woke up with her neck hurting. She was a little disoriented and unhappy. We were moved to our room and she was extremely unhappy. She kept asking to go home. Poor baby, I want to go home too!!
Her second dose of chemotherapy started at 9:30 tonight.
Pray for healing. Pray that these strong medications pumping through her body are doing their job. Pray for complete healing, a miracle! Our God is a miraculous God and I believe He has my baby girl in His arms.
One of the chemo drugs require Charlotte to use the bathroom every two hours. Waking up a 3 year old every two hours is the WORST! Pray I don't get punched tonight! Lol.
We have our Neuroblastoma awareness shirts designed and printed! You can order through messaging on here, Facebook, Instagram, or email ( jacyork06@gmail.com)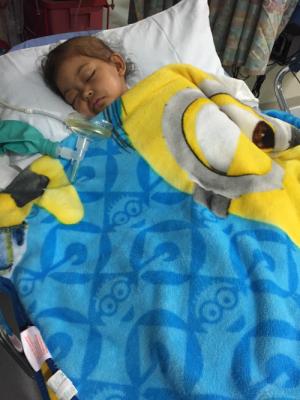 All Scripture is God-breathed and is useful for teaching, rebuking, correcting and training in righteousness, so that the servant of God may be thoroughly equipped for every good work. (‭2 Timothy‬ ‭3‬:‭16-17‬ NIV)