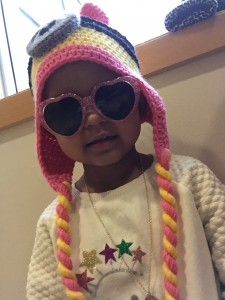 This week, Charlotte will be going in for her 8th round of chemotherapy! This is another low dose round in hopes to keep her cancer stable until she can get the proper treatment. I am praying fiercely that this IS keeping her stable. High dose kept her stable, we don't know that a low dose will do the same. Believing it is!
She will go in to the outpatient at Doernbecher every morning this week. It starts with an oral dose chemo. She must keep it down for 15 minutes, and then after an hour of taking it, they will start the IV dose of chemo. It will be for 5 days.
We have had a tremendous support from our family, friends, community, and complete strangers! Thank you! From the amazing necklace designed by the talented Nashelle team, to bake sales put on by mama's and their sweet kiddos, to all the generous people donating to the you caring page as well as the Wells Fargo account!! And the most recent event coming up! Charlottes Winter Wonderland! There has been over 300 items donated, multiple volunteers, yummy food, and great entertainment! We are over flowing with the love felt from each of you!! Thank you thank you thank you!!
PRAISE REPORT:
Charlotte has been eating!!! She is eating 3 meals a day again! She is still on the IV nutrition to be sure her electrolytes stay in balance from the kidney damage but they have cut down the hours and the amount!
She also hasn't thrown up in a couple of weeks. They upped her dose of anti nausea and it is helping!
She has been very active and playing. We were able to take her to the Christmas parade, she LOVES parades and cried when it was over.
PRAISE BE TO GOD!!
PLEASE PRAY FOR:
Her miracle (of course!)
 a smooth round of chemo with minimal vomiting
that this low dose chemo is clearing her precious body
a successful auction in hopes to get her to New York
 guidance and peace for our family
Thank you all for being a part of this fight with us! It's a long road ahead but our family feels all of your love and support!!
"Consider it pure joy, my brothers and sisters, whenever you face trials of many kinds, because you know that the testing of your faith produces perseverance. Let perseverance finish its work so that you may be mature and complete, not lacking anything. If any of you lacks wisdom, you should ask God, who gives generously to all without finding fault, and it will be given to you. But when you ask, you must believe and not doubt, because the one who doubts is like a wave of the sea, blown and tossed by the wind."
‭‭James‬ ‭1:2-6‬ ‭NIV‬‬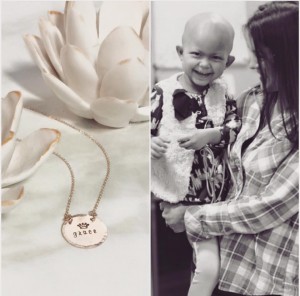 For charlotte's necklace you can go to www.nashelle.com/graced-by-charlotte-necklace or go into the stores in the Old Mill and Bridgeport.
There are multiple options to choose from! The word GRACE was chosen for Charlotte's middle name. But her middle name was chosen because she has always been our "grace" God has shown His grace for us so many times in her. BRAVE was also chosen because she is the bravest person I know. She has endured so much and still has the brightest smile and sweetest spirit! It comes in Gold or Silver, with Grace or Brave, and with or without the crown! So many options, I want them all!!!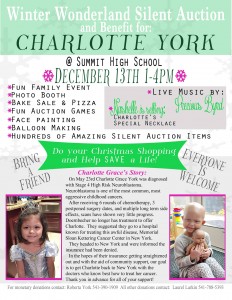 A week from today is Charlotte's Winter Wonderland! You don't want to miss this! Hundreds of items have been donated for all types and areas of life! There will be live music, yummy food and treats, fun for the kids and much more!! I am hoping to be able to bring Charlotte so she can feel all of the love we do!