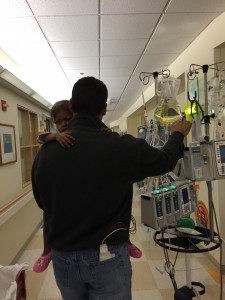 We are still in the hospital. Charlotte's little body has had many doctors stumped. They explained what was happening as  a bucket with a hole in the bottom. You constantly try to fill it, but it lets out faster than you can pour in. There have been many talks of transferring her to ICU but they wouldn't be able to do anything different for her there and the oncology floor is safest for her immune system.
The normal amount of potassium for a child to receive is 1-2 units, Charlotte has been receiving 10-11. She has been on telemetry to monitor her heart due to junctional cardiac arrhythmia. They still believe it is damage of the kidneys from the chemotherapy and with time they will heal themselves. This could take days to weeks, every child is different. Everyday we are seeing small improvements but she has to get to a stable place before we can safely go home. We are praying this is soon.
Charlotte is currently in isolation and isn't allowed to walk around the halls, can you imagine how hard that is? The room is too small to do much walking and her little legs are shaky as she walks to the restroom. So we have been having LOTS of craft time!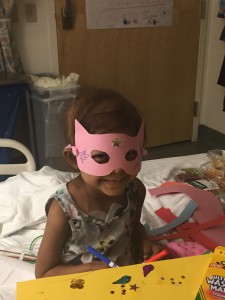 With all that is going on, and all the tubes and machines, Charlotte is in great spirits. Yesterday she was all smiles! She is laughing and singing, just being our sweet girl! She constantly says "When we go home…" or "When we leave the hospital…" I think she is just as ready to get out of here as the rest of us!
She has had two blood and two platelet transfusions, her counts are down but we are anticipating their rise. Luckily no fevers.
Pray her body heals. Pray that her appetite returns, and that she is able to absorb all the nutrients needed. Continue to pray for the miracle we are all seeking. Ask for strength in her body and for us mentally as surgery comes up.
Thank you all!
"Rejoice in the Lord alway: and again I say, Rejoice. Let your moderation be known unto all men. The Lord is at hand. Be careful for nothing; but in everything by prayer and supplication with thanksgiving let your requests be made known unto God. And the peace of God, which passeth all understanding, shall keep your hearts and minds through Christ Jesus." Philippians 4:4-7