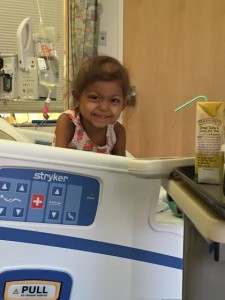 As I write this I feel like a bell should be ringing, "Round 4!" Yesterday Charlotte passed her platelet count! Sunday it was at 29, Wednesday, a whopping 130, yippee! We flew in to Portland last night, and as most children would be excited to see all of the lights, Charlotte said , "Mommy, I want to go home." It breaks my heart that when she flies anywhere or we go anywhere, she knows it's not for fun or associates it with being sick.
This morning we woke up super early for an echocardiogram at 7 to see how her heart is doing after two doses of Doxorubicin. We were running late but couldn't help stopping by breakfast. Charlotte had an omelet, then wanted a muffin, a bowl of cereal, milk, and orange juice!! It was so great to see the excitement in her face! I wish I could give her options like that everyday!
The echo went well and her heart hasn't been weakened by the medicine, PRAISE GOD!! We will be doing a routine scan right before her 5th round of chemo, three weeks from today. I am curious to see the results, beyond curious, there are sooo many feelings when I think about it.
So far today has been a good day. Chemo started early evening and will go until Sunday. One of her meds, the Doxorubicin, is a 72 hour dose! Sweet Charlotte has been full of smiles and laughter. I often wish I could bottle it up. She has gotten the hang of this hospital thing and no longer screams when the nurses come in, she helps pull her IV tower, and can lay in the bed alone! PROGRESS!!!
Pray for her; that her spirits remain high, for minimal sickness, for easy rest, and a continued appetite. Thank you all so much!