We returned home from New York for the weekend just to repack and head to Portland for the week. Charlotte had her 7th dose of chemo the first week of November. It was a lower dose that she has not had before. The goal of this round is to keep her stable and prevent the cancer from growing until we can continue treatment in New York.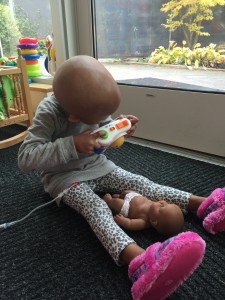 The first drug was an oral one. She took it well, we waited an hour and then started the IV chemo. That ran for an hour and a half with a short flush and she was FREEEE! We have never been outpatient when receiving chemotherapy so this was a nice change. Charlotte was full of energy every day we went in. She would run from her bed to the play area and back. Day 2 the vomiting started but it was minimal compared to the past.
At the hotel, her and Eleanor played in the fountains, they call them the "sea." The next morning, Charlotte was so excited to have eggs made for her at the omelet station for breakfast. It's one of the rare times she ate. Her appetite is pretty much non existent. There are days where she eats absolutely nothing. She says she is afraid she will throw up if she eats. We have her on anti nausea meds 24/7.
After treatment on Friday we were able to go home. It was so nice, for once, to have a schedule and actually be able to stick to it! Time at home was nice but tough. The vomiting and diarrhea were pretty extreme but it didn't bring down her spirits at all! She constantly wants to keep going! It's wonderful to see but it's also very tiring (for me) haha.
I apologize for the time in between updates! I actually have much more to share but will do so in a couple other posts! Thank you all for being so patient and for your prayers!