I realize I didn't update as I said I would. Charlotte's most recent scans are unchanged. She is still considered No Active Disease. Her trip to NYC was quick, 24 hours type of quick.
Things at home have been a bit hectic and I have gotten on here multiple times to finish this post and share it. Something always comes up or malfunctions and I am distracted. Tonight I am doing this!
She got home after her last scans and quickly began to digress. Her coughing fits lasted longer, her breathing more labored, her oxygen dropping constantly.
The pulmonologist here gave us a couple of things to try. While they occasionally seemed to help, Charlotte wasn't doing any better. She began losing weight. In 3 weeks, she lost 3 pounds. Charlotte didn't have 3 pounds to lose. From November, she has lost 7 pounds. Apparently just breathing is burning calories. Her breathing is so labored from her stomach, chest, and throat, it's disturbing.
After chronic low oxygen, such a weight loss, and minimal eating the doctor has decided to put Charlotte on oxygen 24/7. She is also on a high dose of steroids every day and a very low dose of antibiotics 3 days a week.
The steroids seem to be helping her. Her coughing doesn't happen in the middle of the night now. Her appetite comes often. Right now her go to meals are Greek yogurt (10g of protein!) and Mac n cheese that I fatten up with ghee and whole milk. *updated: her appetite has leveled off and now she wants bacon and strawberries.
Life has once again changed for us. I am beginning to feel like I'm in a hermit stage. Charlotte doesn't want to go many places (which is completely understandable) when we do, she has to be in a stroller with her oxygen. One thing I praise God for is her love for her gymnastics class. She doesn't want to miss it. It's tough to make work, but she pushes through. During this class, she is off oxygen and occasionally struggles. She amazes me. *update: she has decided to stop gymnastics until we can get the lung under control
Another tough thing is missing school. The pulmonologist requested we keep her home with how bad the flu is right now. Charlottes school is AMAZING! They have all been so helpful in many ways. I am updated on how many kids are out sick so we can figure out if Charlotte may be able to go. Her teacher has also made multiple trips to our house to drop off school work, milkshakes, and brought a bag for her to decorate for valentines.
The mothers at her school have put together a meal train and have dropped off delicious meals. When I was first approached with this, I kept declining. I felt as if there were other families that could use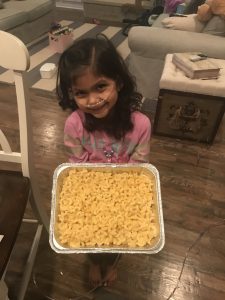 it more than us. It has always been so hard for me to ask for or accept help. Luckily, this one mom was persistent and wouldn't take no for an answer. Even when I didn't know, God KNEW. He knew things would get hard. He knew Charlotte would need more care, He knew Tyler would be traveling more, He knew I would be exhausted. He knew we needed these families to help us! We are beyond grateful!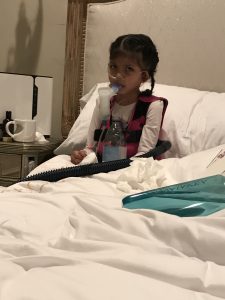 Charlotte was able to return to school for the first time in over a month! Sweet girl was nervous and full of anxious feelings. While she wanted to see her teacher and friends, she was so afraid to start coughing. Her coughing isn't your typical cough. It is scary to see and hear. She gets many looks and concerned people. I think she sometimes feels embarrassed.
As I carried her into school, it was playtime. Her classmates were running around outside and once they saw her they came running up, calling her name. The smile on her face, literally melted my heart. It's been a long time since we have seen that smile. We walked into the school and as I spoke with her teacher and school nurse, Charlotte grabbed her backpack from me and asked if she could put it in her class. That right there, was HUGE!! Any type of activity may cause Charlotte to cough and so she refrains from almost anything. She usually would've asked me to carry her and the bag. It brought tears to my eyes. Tears of joy. A couple of her friends came in and asked if they could go see Charlotte. When I went to say goodbye, they were coloring together.
More tears were shed that day, then the first day of school. It was such an amazing feeling to see her happy and excited about something! She did well. She had a couple of struggles but nothing significant.
We are currently trying to get Charlotte to the Children's hospital in Philadelphia. They are number 1 in pediatric pulmonology and because they are one of the top pediatric cancer hospitals, their doctor has seen more cancer kids with lung damage. The pulmonologist has researched and has said this happens in less than 1% of children, and if we can get to Philadelphia, please go! Insurance can never be easy. As of now we are trying to go through all of the hoops to get her there.
Charlotte also had a sleep study done. Good news came back that she does not have sleep apnea!!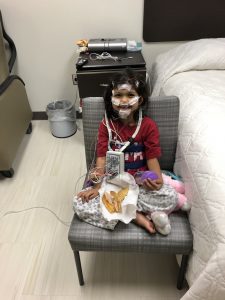 Please pray for:
Charlottes lung
Her anxiety
Confidence
Protection from sickness
Insurance to approve a second opinion
That the vaccine is doing its job
Charlottes miracle
Praising God for:
His unending love
Charlottes school and teacher
The amazing supportive families
Endless and consistent prayers
Good scans
No sleep apnea
Excitement, smiles, and joy from our girl
Charlottes miracle
Reading through Hebrews, this was a clear reminder and if you have the chance, read through chapter 11, the faith of these people is amazing.
"Now faith is the substance of things hoped for, the evidence of things not seen.
Through faith we understand that the worlds were framed by the word of God, so that things which are seen were not made of things which do appear.
But without faith it is impossible to please him: for he that cometh to God must believe that he is, and that he is a rewarder of them that diligently seek him."
‭‭Hebrews‬ ‭11:1, 3, 6‬ ‭KJV‬‬
"For I am convinced that neither death, nor life, nor angels, nor principalities, nor things present, nor things to come, nor powers, nor height, nor depth, nor any other created thing, will be able to separate us from the love of God, which is in Christ Jesus our Lord."
‭‭Romans‬ ‭8:38-39 NASB