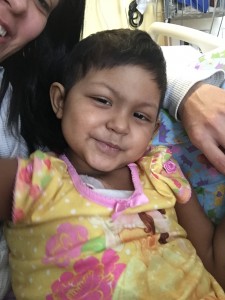 "I wait for the Lord, my whole being waits, and in his word I put my hope" Psalm 130:5
As I watch Charlotte play this morning, it's hard to believe she just had chemo, a stem cell rescue and her blood counts are so low. She is full of smiles, jokes, laughs, ballet moves, cuddles, jumps, and happiness.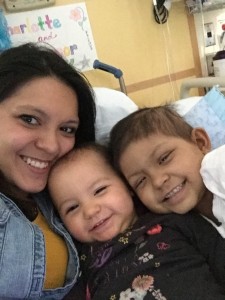 She was finally discharged on Sunday. Her ANC went from zero to 600 overnight! We have enjoyed some down time hanging out at the Ronald McDonald house and then having Tyler join us on Tuesday! Charlotte had a PET scan last Friday to see if surgery would be possible. The tumor board met with the surgeons on Tuesday to discuss Charlotte's case.
A resection surgery is scheduled for March 25th. They plan to remove her left adrenal gland where the main tumor is, as well as some lymph nodes, soft tissue, and a small piece of her liver. We are told to expect a 7-10 day hospital stay for recovery. We met with the surgeon today and to my surprise this will be less invasive then I thought. Her incision will be 1/3 of the size that was quoted last time surgery was discussed! This in itself was a blessing because I have been struggling with how to explain all of this to Charlotte. When she wakes from bone marrow biopsies, she gets upset about these new "boo boos" on her body.
We are hoping to enjoy the down time before surgery. It's supposed to snow on Sunday and Monday, today it was 66! We have also been planning a trip to the American Girl store with a couple other little girls fighting Neuroblastoma. This has been rescheduled 3 different times due to hospitalizations, low counts, and treatments. Hoping to surprise all three of them next week!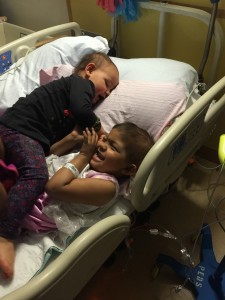 Charlotte's platelets and red blood are still going down. Her platelets need to be at 75 for surgery and are only 21 today so she is getting transfusions for both. She is such a trooper when it comes to this. She knows what it means when her counts are low. She knows if it's her white count she has to get a shot until it comes up. She also knows she has to get hooked to a bag of blood when her red blood is low. She amazes me every day. She has been telling whoever will listen that on April 11th she will be 4! Sweet girl!
Last but not least, today is mine and Tyler's anniversary!! God blessed me with a man that only He could've picked out! One that growing up, I had always heard about but brushed off with no interest, and vice versa. When we were 5 years old, we were at the same wedding, playing in the same yard and gazebo, chasing fireflies! It wasn't until 21 years later that our paths crossed again and then the rest is history!! Today, we had big plans of sight seeing and enjoying our family. Instead, we got to enjoy each other in the playroom at the hospital. Not ideal, but I am so grateful to have him here with us. We have hit many rocky roads but without a doubt we know the other isn't going anywhere. Grateful for this man that I call my husband and my children's father!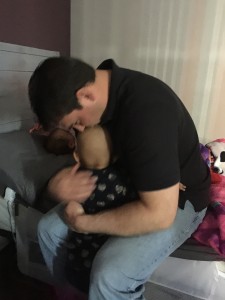 Please pray for
Charlotte's counts to come up naturally
a safe productive surgery
knowledge and guided hands of the surgeon and those involved
an easy, quick recovery
safe travels for all coming and going
Praising God for
a much anticipated surgery
patience for His timing
family, friends, and the abundance of support
generosity of others
rising counts
my husband
"Whatever you have learned or received or heard from me, or seen in me-put into practice. And the God of peace will be with you" Philippians 4:9