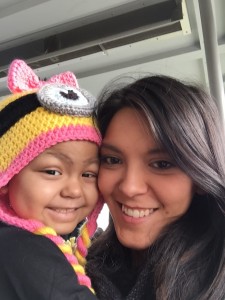 Tuesday we headed to Portland in hopes to get another stem cell harvest. After Charlottes second round of chemo they did one. They pulled enough stem cells for 2.5 stem cell rescues. With how advanced Charlottes cancer is and the treatment ahead, Sloan believes we need enough stem cells for 4-5 rescues.
We arrived first thing Tuesday morning for a blood draw. It takes about two hours to get the stem cell count. We got the call that she was at .002, too low to start the harvest and to start the triple dose of her GCSF (blood count booster). My grandparents arrived from Texas around noon and Charlotte couldn't contain her excitement!!
Wednesday morning we went in again, with the hopes of higher counts so that she could receive some medicine that would make her body purge more stem cells. Right after her blood draw she had a brain MRI. We rode the tram to the bottom of the hill. It was Charlottes first time! She said she felt like she was flying!
Charlotte has had many scans, but almost all of them have been under sedation, this one, was not. I was very worried about her being awake.  Luckily I was able to join her. They gave us both ear plugs and I explained to her how important it was to be very still. She did AMAZING! She wasn't scared and she didn't move. She told me she was acting like a "statue" sweet girl definitely was!!
Right after the scan we had an appointment with the neurosurgeon. They were concerned about extra fluid and this was a routine scan to check on it. Good news!! The fluid was in a normal range! They believe the chemo caused atrophy to her brain which made it look like there was more fluid. All is well now!
Shortly after the MRI we got the results of her stem cell count. It was less than .001! She was going lower! So many thoughts ran through my head, what in the world is going on? How could they possibly be lower?!! We were giving her triple doses of her meds, all of her counts were up, what is going on??
After realizing I had no control, we headed to the hotel. Once the girls napped, we took them to Build-a-Bear. It was a little treat for Charlotte for doing so well in her MRI. She picked out Bob from the Minions, and Eleanor chose a bunny. They both had so much fun together, it was great to see their joy.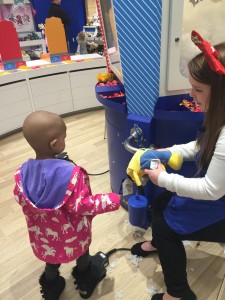 Today, I asked for prayers and prayed hard myself with the hopes of being able to start this harvest that she needs. First thing, we had another blood draw. Charlotte wanted to play at the hospital for a little bit, so she did. I was able to talk with the stem cell Doctor and pick her brain a little bit. I got the call later that her counts were the same as yesterday. At first I was upset and frustrated. After regrouping, I made some calls and got some answers. After lots of back and forth, a new plan was made.
We are now home. We will start the triple dose of GCSF the day after Thanksgiving through the weekend and head to Portland on the 30th. They will give her the meds to hook her up to the stem cell machine. PRAY they get more than they need!!
My heart has been overwhelmed with thanks and joy. The feeling of support is one that I never knew was possible!
Continue praying for our sweet girls miracle
For no nausea
For a HUGE appetite
For good memories made
For answers from insurance
For treatment in New York to begin as soon as possible!
For her stem cells to shoot out of the roof this next time around.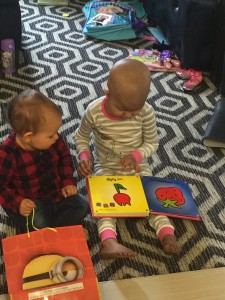 Thank you so much for your faithfulness!
"I will praise thee, O Lord, with my whole heart; I will shew forth all thy marvellous works."
‭‭Psalms‬ ‭9:1‬ ‭KJV‬
"Though you have not seen him, you love him; and even though you do not see him now, you believe in him and are filled with an inexpressible and glorious joy, for you are receiving the end result of your faith, the salvation of your souls."
‭‭1 Peter‬ ‭1:8-9‬ ‭NIV