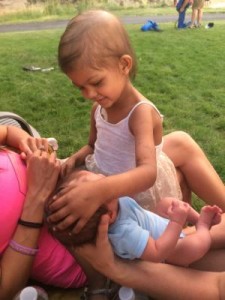 Our sleepover was a success with little sleep! Haha! But it was nice waking up with our family. The rest of the collection started a little later but by noon we were ready to leave! It took a while to get the discharge papers ready, but we were quickly on our way home!Our awesome friends organized a prayer and worship night. It was wonderful! We are so grateful for all of the prayers and people supporting us. Charlotte did great and sat with us the whole time. At the end we did a hands on prayer and Charlotte wasn't upset about the large number of people surrounding us. It was so refreshing. We stayed late and as she watched her friends playing by the pond, she decided she wanted to join. We walked down to it together and she instantly put her feet in and starting splashing. She didn't want to leave. She also got to hold a 2 week old baby that she had been asking for since the day he was born. It was the sweetest sight.
Our two nights home seemed pretty short but we definitely packed them with food, family, friends, prayers, and fireworks!
We are back in the hospital for the 3rd round of chemo. When praying specifically, please pray for minimal side effects. One of the meds can cause hearing loss.
Thank you all! I will update when I can!!
For I reckon that the sufferings of this present time are not worthy to be compared with the glory which shall be revealed in us. (‭Romans‬ ‭8‬:‭18‬ KJV)