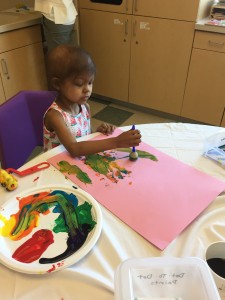 Two days after our original discharge date and we are still in the hospital…
We arrived in Portland Monday morning to get the scans we had anxiously been awaiting. Of course, we hit traffic and were late. I was so worried we would have to postpone it. We rushed upstairs to the imaging department, got checked in without a problem, only to learn that we were supposed to start sedation 13 hours BEFORE the scan!!! Apparently there was a miscommunication between our oncologist and the radiologist.
Our appointment for clinic and to be checked in for inpatient was still an hour and a half away but we figured we would try anyway. We lucked out and got pushed to the front. We had blood work drawn to make sure she was ready for chemo, saw the doctor, and headed to our room for the week.
Chemo started later than we had hoped due to hydration, but by 7 it was going. Last time we had this combo of meds, Charlotte did quite well. Vomiting didn't start until a couple days later. This time, it was a couple of hours before it began. She was violently vomiting over and over until there was nothing left. They had her on full doses of all the anti nausea medicines she is able to take and nothing was helping. She slept a lot the next day.
Tuesday, we were able to do all of the scans planned.
After her second dose, within a few hours the vomiting began again. It wasn't until the last dose that it subsided a little bit. Since then, she hasn't been able to keep much of anything down.
Thursday night, they started her on TPN (IV nutrition) We were expecting to leave on Friday but the recipe for the TPN wasn't the right one for Charlotte and they needed to tweek it. Friday we thought FOR SURE we would be ready to go Saturday but Charlotte's potassium levels were low. They infused her with potassium and while her numbers went up a little bit, they weren't high enough. At this point we were hoping to head home Sunday.
They messed with the TPN recipe AGAIN on Saturday night and raised the potassium levels. Around 3 am they checked her levels and at 5 the nurse came in to let me know they were dangerously low. They drew blood again and got a urine sample. They paged the pediatric renal doctor to help figure out what was causing this. FINALLY, around noon, the doctor came in to talk about what was going on. She said she believes that this is a side effect from the Cisplatin Charlotte was getting during chemo. Her sodium was very low as well, so she believes that the kidneys were getting rid of the potassium to hold on to the sodium. We will be here for at least another 48 hours in hopes of figuring out how to control these levels.
"Cast thy burden upon the Lord, and he shall sustain thee: he shall never suffer the righteous to be moved." Psalms 5:22
With all of the disappointment in this post, we do have a HUGE praise!! The scans came back and her tumors are either stable or are getting slightly smaller with no new growth! The main tumor, above her left adrenal gland is the same size and is the one they plan to remove in surgery. Praise God for progress!
We are so grateful for your words, thoughts, and prayers! Pray for Charlotte, she is soooo ready to go home! Pray for her body to stabilize its nutrients, for her vomiting to subside, for an appetite, and for strength.
"But the Lord is faithful, who shall stablish you, and keep you from evil." 2 Thessalonians 3:3
I am amazed at the response for the Go Gold shirts! It's so exciting to see our support, there is one day left to order if you are interested www.booster.com/gracedbycharlotte If you can't get a shirt, go gold anyway in support of childhood cancer awareness.