As you all know, Charlotte was admitted in to the hospital on Wednesday. After 2 blood transfusions and 1 platelet transfusion, we are hoping to take our baby home! Friday June 5th was one of Charlottes BEST days since this has all began. She was out of bed most of the day, playing and laughing and just being her goofy self.
Most of her hair has fallen out now. I wasn't quite sure how to explain it to her. I let her know that the "special medicine" she takes to get rid of the cancer in her body that was making her tummy hurt, would make her hair fall out too. She said "I want my hair to stay in" oh it just broke my heart! I told her "your hair will grow back and if you want mommys hair to come out too, I will take it out" She seemed pretty content with my response and really hasn't taken any notice to it missing.
Later that day, some of Charlottes sweet friends gathered in the parking lot outside of her window with balloons and smiles. She was so excited to see them waving and to watch the balloons being released. It was so special and just made her sooo stinkin' happy! They each recorded a little message and as she watched it she would respond. It was the cutest thing!
Tyler and I were able to get away for dinner together and it was so nice! Just being able to enjoy each other, alone, was much needed!
Saturday June 6th was my birthday, after a great night sleep (Tyler took hospital duty) I was able to come to the hospital refreshed and energized! Poor Charlotte wouldn't eat or drink without me there 🙁 As soon as I showed up, she wanted Greek yogurt! Then she was in such a playful mood. We took pictures together and she even posed for me! Since all of this started, two months ago, she has NOT wanted her picture taken. As we were cuddling she looked at me and said, "Mom, happy birthday" such a sweet girl. And even though the circumstances weren't ideal, it was a wonderful birthday!
As the morning went on we learned that her blood counts were moving up and they wanted to do another red blood transfusion. Hopefully after testing her blood Sunday morning we will be discharged. (praying for that) We also learned that nothing had grown in her culture so we were clear for a bacterial infection! She hasn't been on any pain meds for over 48 hours! Praise the Lord!! Slowly our girl is coming back to life!
Sunday June 7th we will be saying a united prayer for Charlotte at 3pm Pacific time. Pray for complete healing, invite others to pray at that time too!
Thank you for the continued prayers. God hears us, and I definitely believe the past few days is all His doing!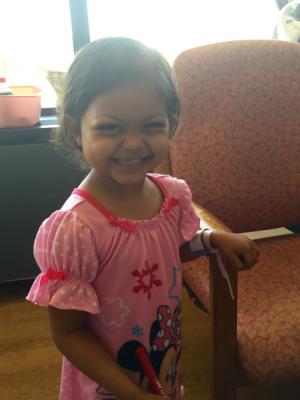 Because of the Lord's great love we are not consumed, for his compassions never fail. They are new every morning; great is your faithfulness. Lamentations 3:22-23