This is a long one and it will share the whirlwind of the past two days.
Thursday 3/29/18
We made it to the doctor first thing Thursday morning, after multiple delays and a 1:30 am arrival. With only two hours of sleep, I kept thinking "after this appointment we will grab lunch and take a nice nap before our flight out." So I thought.
After meeting with the pulmonary NP, nutritionist, physical therapist, and pulmonologist they requested an immediate admit into the hospital. My stomach fell. They were very concerned with Charlotte and her "baseline" (her everyday normal). With how hard she works to breathe, her respiratory rate ranges from 40-60 and the way she breathes with her stomach, chest, and throat. She showed high CO2 in her blood, clubbing of her fingers, and flaring of the nostrils with each breath.
I caught Tyler up on what was going on and we agreed being admitted was definitely the best thing for her. She will be inpatient for 2-3 weeks at Children's Hospital of Philadelphia. Shortly after agreeing, I received a call letting me know the ICU would be a better fit for Charlottes condition.
Another pit in my stomach and multiple questions ran through my head. The number one question being, "Why hasn't any of the other doctors seen this?!"
The team and hospital here have been amazing! We are grateful that Charlottes condition is being taken seriously, that they are determined to find relief for her!
Of course, coming here, packed for 24 hours is tough but thanks to family and friends we can make it work!! I wasn't sure how sleeping in the ICU with a 10 month old and the machines beeping would be, but lucky for us, along Charlottes journey we made a friend for life. One of Charlottes nurses from NYC lives nearby and she showed up and allowed me some rest and much needed sleep. I am forever grateful for all she has done for Charlotte and myself. Charlotte said it has been her favorite part of this trip so far.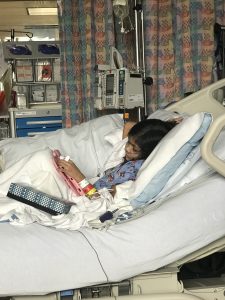 Friday 3/30/18
Today they decided to go ahead and squeeze Charlotte onto the operating room list. They wanted to get a bronchoscopy sooner than later. Because she was an add on, there was not a specified time for the procedure. The only thing known was she would need to be NPO from midnight on.
One of Charlottes things right now is using water as a comfort. It helps to suppress the cough she has. She hates coughing.
Well, she wasn't allowed water and boy was she angry! 9:00 came around and she started telling me how hungry she was. Then 10, 11, around 12 the respiratory therapist came by to try to get her comfortable with the bipap mask. That was AWFUL!! She hates it and on top of that she was hangry!! I haven't seen her fight so hard. And while I had to be stern with her, deep down inside I was grateful for the fight she still has.
Charlotte was not taken down until 5pm. She was upset, angry, hungry and thirsty. She finally gave up. She sat with her head down, staring at her fingers. It was absolutely heartbreaking. I tried not to let the tears flow in front of her and I managed to wait until I left her in the OR.
Hadley and I waited in the room for Charlottes return. The doctor came in to let me know the procedure went well and they would test what they got. Shortly after, the nurse came in and let me know that she would be coming up intubated. I was ready for it, but then she arrived with her eyes taped shut and it was a little disturbing for me.
As they were trying to wake her, her carbon dioxide levels were in the 90s and she was coughing a lot. They wanted to try and regulate her CO2 and decided to keep her intubated. As the sedation began to wear off, she was trying to pull at the tube down her throat. When they held her down to suction and try to get her medication correct she was so upset. She was coughing but because of the tube it looked as though she was choking. She was kicking and trying so hard to break her arms free.
This happened multiple times and they finally tried some different meds. She has calmed down and is still intubated.
I just sit here watching her. Praying that she can be better. Hoping that one day soon, her health will be restored. There is no doubt in my mind that she should be here but this is tough!
We will be at Children's hospital of Philadelphia for the next 2-3 weeks.
Please pray for:
Peace for Charlotte
Strength and perseverance to get her through this treatment
Answers
Peace for her family
Charlottes miracle
Praising God for:
The opportunity to be here
The team of doctors and nurses
Family and friends
Charlottes miracle
"I wait for the LORD, my soul does wait, And in His word do I hope."
‭‭Psalms‬ ‭130:5‬ ‭NASB‬‬