I know many of you are patiently waiting for results of Charlottes recent scans. I thank you for that. We had two full days of running all over OHSU getting tests, scans, injections, blood draws, multiple sedations, etc. it was exhausting but we got it done!!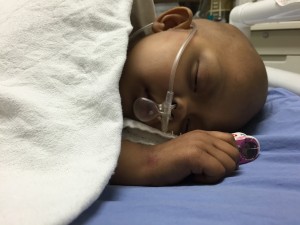 Our oncologist informed us he would be off on Friday so we wouldn't hear the results until Monday. It was stressful but I was prepared! We got home Thursday, early evening and settled in to our comfort zone 🙂
Friday morning I received a phone call from  the hospital, it was Charlotte's doctor. He said he didn't want to make me wait until Monday to hear the results. I could tell in his voice it wasn't good. We learned that the tumor sizes were still the same as the previous scans. But with the MIBG scan, the one that shows the cancers activity throughout the body, it was still lighting up all over. There was no change. The doctor said she didn't respond to chemo and we would have to come up with a new plan. He told me I needed to call Memorial Sloan Kettering in New York as soon as we hung up, as they could offer us more advanced options.
Surgery is postponed again! Right now we are at a stand still, I NEVER EVER expected this! Mostly because Charlotte has been doing SO good!
So many emotions have raced through me; anger, sadness, helplessness, confusion, hate and brokenness. I have cried, over and over. I cry now as I share with you this news. Daily, it seems so unreal that my baby girl is going through this. That she has to endure such an awful situation. More and more she is being robbed of her childhood.
I KNOW God's plan is better than I can imagine, but right now, I don't see how it could be.
I continue to pray, to hope, to cry out and plead for my daughter's life! We have spoken with the team of doctors in New York and they are currently reviewing Charlotte's case. They will come up with a treatment plan and we will continue to pray for her miracle.
We are enjoying our happy girl as much as possible right now. I dread what's ahead, with more poison in her body, more painful treatments, and who knows what else. It's not fair! She is so strong and so brave, I can't imagine enduring the things she does.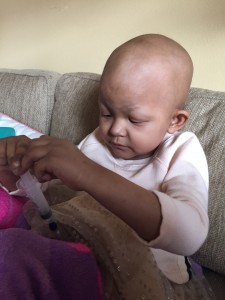 I know that God is our ROCK. That He doesn't fail us, He is here, and will see us through this. Some days are just hard to accept it.
Please continue to pray!
Pray for:
her miracle
moments of joy and happiness, for Charlotte and our family
that we don't take our time with her for granted
knowledge for the team going over her case
that her new plan of treatment will work
for peace
Thank you all for your prayers and thoughts! Please don't stop! I know many are disappointed, but don't give up hope, for He is faithful!
Psalm 40 
"I waited patiently for the Lord; and he inclined unto me, and heard my cry.2 He brought me up also out of an horrible pit, out of the miry clay, and set my feet upon a rock, and established my goings.3 And he hath put a new song in my mouth, even praise unto our God: many shall see it, and fear, and shall trust in the Lord.4 Blessed is that man that maketh the Lord his trust, and respecteth not the proud, nor such as turn aside to lies.5 Many, O Lord my God, are thy wonderful works which thou hast done, and thy thoughts which are to us-ward: they cannot be reckoned up in order unto thee: if I would declare and speak of them, they are more than can be numbered.6 Sacrifice and offering thou didst not desire; mine ears hast thou opened: burnt offering and sin offering hast thou not required.7 Then said I, Lo, I come: in the volume of the book it is written of me,8 I delight to do thy will, O my God: yea, thy law is within my heart.9 I have preached righteousness in the great congregation: lo, I have not refrained my lips, O Lord, thou knowest.10 I have not hid thy righteousness within my heart; I have declared thy faithfulness and thy salvation: I have not concealed thy lovingkindness and thy truth from the great congregation.11 Withhold not thou thy tender mercies from me, O Lord: let thy lovingkindness and thy truth continually preserve me.12 For innumerable evils have compassed me about: mine iniquities have taken hold upon me, so that I am not able to look up; they are more than the hairs of mine head: therefore my heart faileth me.13 Be pleased, O Lord, to deliver me: O Lord, make haste to help me.14 Let them be ashamed and confounded together that seek after my soul to destroy it; let them be driven backward and put to shame that wish me evil.15 Let them be desolate for a reward of their shame that say unto me, Aha, aha.16 Let all those that seek thee rejoice and be glad in thee: let such as love thy salvation say continually, The Lord be magnified. 17 But I am poor and needy; yet the Lord thinketh upon me: thou art my help and my deliverer; make no tarrying, O my God."