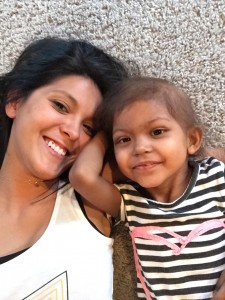 We got home late Monday night, chemo went exceptionally well, considering; There was minimal vomiting that was controlled by meds. Tyler and I took turns staying the night at the hospital to give each other breaks and extra time with each girl. This round, Charlotte was much more alert and active. Multiple times a day, she wanted to walk the halls, play in the playroom, and go to the kitchen to pick out a snack. This is a rarity, usually she wants to stay in her bed with the door closed and occasionally will sit in the chair. As parents, we were THRILLED to see this achievement!
Sunday night we got a pass to leave the hospital for a couple of hours. Of course, she wanted to see the Minion movie, AGAIN!! She was so excited to wear her dress that Cuppy Cake Couture Boutique gifted her and she looked so cute in it!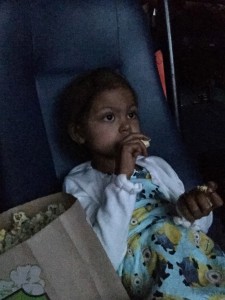 Monday, after chemo was finished, they did a brain MRI to check on the tumors in her head. Our Oncologist is on vacation so we have not been able to hear results and ask questions. It's been a very hard thing to stomach this week.
On a positive note, Charlotte has not thrown up since Tuesday and I believe the only reason she vomited was due to riding in the car (she often gets sick in the car) Praise God for answered prayers!! She has had quite an appetite! Choice of food this time are bananas, grilled cheese, cereal, pretzels, eggs, and granola bars! Praying this continues as she has lost almost 7 pounds!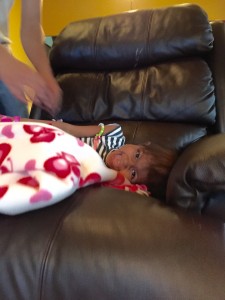 Tuesday night, she really wanted to go to the ice cream store for some strawberry ice cream. Soooo of course we all loaded up and drove to Sisters. BJ's ice cream seems to be her favorite! We had dinner and enjoyed ice cream and she did really well!
Then on Thursday, she randomly asked her daddy to take her fishing. Not sure where this came from but Tyler was determined to make it happen!! We got her rod ready and Tyler pulled out our canoe (which we have NEVER used) We carried it to the irrigation pond, put Charlotte in it and they paddled around for a bit. She lost interest in the pole after only a short time but enjoyed her time with her daddy and their conversation. It was so sweet! Except that wasn't the end of their excitement! They went to Papa and Nana's house to see the new piglets she had been asking about. They were so tiny and  sweet! Before bedtime she wanted to roast marshmallows and eat popcorn. Although she doesn't like marshmallows and only had a few bites of popcorn it was all so worth it!
Today, she woke up hungry and sweet as ever bright and early. Around 10, she was tired and asked to take a nap. I figured it was from the multiple times she got up in the middle of the night and the early rising. Unfortunately, she stayed in bed until 3. Around 1:30 I began to get concerned. I called the Oncologist, then called her pediatrician. We were told to come get her checked out. I assumed she needed blood which was causing the lethargy. She also complained of her head hurting. This much sleep and the head pain are both rare things for her. She is neutropenic right now and a fever seems to be common for us when doing the combo of medicines with this last chemo. Her fever was 102.6 when we went in, it never goes over 101.5. She is currently in our local hospital, no visitors are allowed at this time. We were told to watch her neurological functions, as well as her head pain and to be on the watch for vomiting that wakes her or in the morning.
I have really struggled with all of this today. I felt like it is so unfair for any child to endure. It was so hard to watch her barely keep her eyes open. She wanted so bad to stay awake, to eat her food and watch Max & Ruby but just couldn't find the energy
.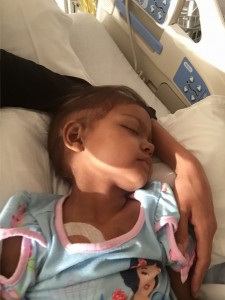 No child should go through this. Childhood cancer is NOT rare, it's very common and it's the number one death in children. I pray that funding for research grows. That one day, we see the gold ribbon as often as we see the pink one.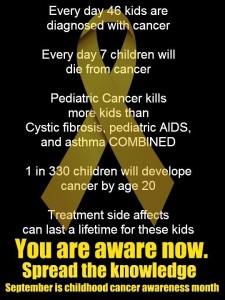 Please pray for our sweet Charlotte. I know you are faithful in your prayers and we are so grateful. Continue to pray for complete healing, for answers, for no pain. Thank you all so much!
"But the God of all grace, who hath called us unto his eternal glory by Christ Jesus, after that ye have suffered a while, make you perfect, stablish, strengthen, settle you" 1 Peter 5:10