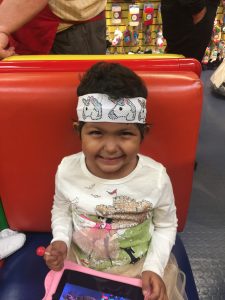 I have sat down multiple times to write this post. At first, it was not easy. Charlotte started her scans with a CT on Monday, then MIBG and bone marrow biopsy on Tuesday, followed by a flight home. Monday night Charlotte's oncologist called me to tell me the CT showed two new spots near her spine and some change near her ribs. I was devastated, unsure of what to think, how to feel, or what to do. They wanted to add a PET scan as well as a spinal MRI. We extended our stay to make these additional scans possible, hoping to find out what was going on.
That night, after finding out, Charlotte wanted pizza. We walked to her favorite place and met with some friends. During the walk, Eleanor kept playing Hillary Scott's "Thy Will be Done" over and over again. As I trailed behind, I sang the words crying. "I don't want to think, I may never understand, that my broken heart is a part of your plan… Sometimes I gotta stop, remember that your God and I am not" over and over I kept saying "Thy Will be done." Trying to brace the hurt, not to break down, just enjoy our current moments.
Charlotte has been doing so well. She has been gaining strength, she just had a port placed, her hair is growing back, she is learning, playing, just enjoying her fourth year of life. I didn't see how a progression was even possible.
I reached out to a few prayer warriors that have been my go to's since the beginning. I asked for prayers, that her other scans would be stable, that the MRI would show nothing, that the PET would show those spots were not active, and that her marrows would be clear. Often times in my requests, I'm not particular. I pray for stable or clear scans, this time, we needed more!
Tuesday she did her scans and biopsy, Wednesday was the PET. Our new departure date was Thursday afternoon. Anxiously awaiting the results, we didn't hear anything. As we were going through security, I got the phone call. All of Charlotte's scan showed stable!!! The new spots didn't not show on the spinal MRI! How was this possible? The PET showed the spots were not active! PRAISE THE LORD!! Again I broke down in tears! Only God could have done this, only He could have answered these specific prayers! AMAZING!! Bone marrow results weren't in yet but I was happy regardless.
We landed at our layover 4.5 hours later and I received an email from the oncologist. Charlotte's bone marrow was CLEAR!!! Never has it been clear! I cried AGAIN!! Tears of joy, of disbelief. A couple of days ago, I had cried over and over feeling broken and now to hear this amazing news, tears of happiness.
He truly is working in our lives, everyday. Every opportunity we allow, He is there. I truly believe He hears me, sees me, loves me, and will NEVER leave me. As many of you know, He has been our Rock through this entire battle.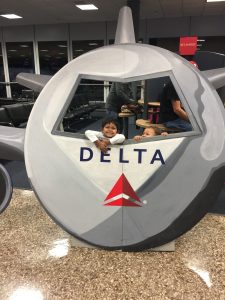 PRAISING God for
Good news!!
Being so so good to us
Answered prayers
Safe travel home
Praying for
Our friends that have scans coming up
Those who have lost sight of your goodness
Charlotte's miracle
"As for God, his way is perfect: The Lord 's word is flawless; he shields all who take refuge in him."
‭‭Psalm‬ ‭18:30‬ ‭NIV‬‬
"Hear me, Lord, my plea is just; listen to my cry. Hear my prayer— it does not rise from deceitful lips. Let my vindication come from you; may your eyes see what is right."
‭‭Psalm‬ ‭17:1-2‬ ‭NIV‬‬
"I have set the Lord always before me: because he is at my right hand, I shall not be moved."
‭‭Psalms‬ ‭16:8‬ ‭KJV‬‬
I wanted to share the lyrics to this song, for me, it is a powerful one.
Thy Will- Hillary Scott
I'm so confused
I know I heard you loud and clear
So, I followed through
Somehow I ended up here
I don't wanna think
I may never understand
That my broken heart is a part of your plan
When I try to pray
All I've got is hurt and these four words
Thy will be done
Thy will be done
Thy will be done
I know you're good
But this don't feel good right now
And I know you think
Of things I could never think about
It's hard to count it all joy
Distracted by the noise
Just trying to make sense
Of all your promises
Sometimes I gotta stop
Remember that you're God
And I am not
So
Thy will be done
Thy will be done
Thy will be done
Like a child on my knees all that comes to me is
Thy will be done
Thy will be done
Thy will be done
I know you see me
I know you hear me, Lord
Your plans are for me
Goodness you have in store
I know you hear me
I know you see me, Lord
Your plans are for me
Good news you have in store
So, thy will be done
Thy will be done
Thy will be done
Like a child on my knees all that comes to me is
Thy will be done
Thy will be done
Thy will be done
I know you see me
I know you hear me, Lord