I don't really know where to start. Charlotte finished the antibiotic treatment to get rid of the PJP she was diagnosed with in Philadelphia. I really did not see a change, positive or negative which was a little discouraging.
We had to move on to the next plan of treatment, high dose pulse steroids. This would be three 1 hour infusions over three days. Her first treatment was a planned admittance into the children's hospital. Because of her bipap machine, she would have to be admitted into the PICU. A week before this plan, Charlotte caught a simple cold as did the rest of our family. It hit her the hardest but she seemed to have finally kicked it and we were able to celebrate her 6th birthday with her classmates. This was previously postponed because of our unexpected stay in Philadelphia, so my hope was to celebrate ASAP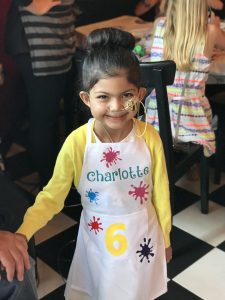 .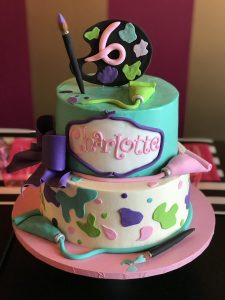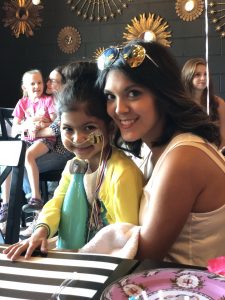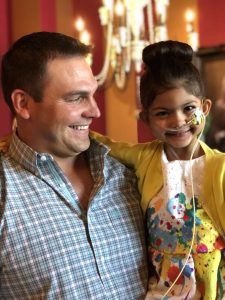 The party was a success and Charlotte had so much fun. The week following her party was a rough one. She seemed to be getting worse. We bumped up the steroid treatment and because we missed our appointment time, we had to take her through the emergency department to be admitted. They did a chest X-ray and thought they saw pneumonia. She was quickly transferred to the PICU. They decided to run some additional tests and re evaluate whether she could safely receive high dose steroids. A CT was done and we waited to hear what the next step was.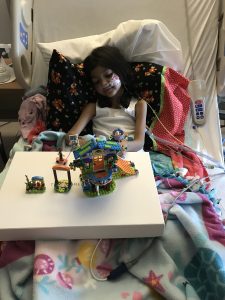 At the end of March, Charlotte has a chest CT done. It showed her right lung had damage but her left lung was perfectly healthy. This new CT shows that her right lung is much worse and now her left lung is starting to be affected. Her body is attacking her lungs and no one knows why.
With this news, we have been told "you have a very sick little girl" and "I don't think you realize, it's very very very very very bad." My first instinct was to call the experts in Philadelphia. They were waiting for the imaging but were sent some screen shots via email. She told me it was pretty bad. She suggested meeting with palliative care to help us navigate these next moments together.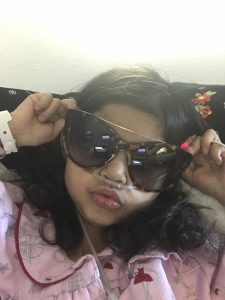 My thought all along was a lung transplant. Unfortunately, Charlotte needs to be free of cancer for 2 years before being put on the list. Even then, with her age and size, the list and wait is long. Many patients pass before their chance comes.
This has been a low blow to our family. So many WHYS?!! We fought so hard through cancer. Her cancer treatment is finally finished, now this! A side effect, from the awful treatment. THIS is why childhood cancer needs more funding!!
My feelings have been all over the place; Disbelief, anger, sadness, numb and broken.
Charlotte is considered terminal.
There is no "cure" for her condition.
A transplant only has a 50% 5 year survival rate.
With all of this, I have a peace inside of me. A peace that only a mighty God could give me. I don't know why I do, but I do.
Charlotte has proven science wrong before, our God has been working on her this whole time. Surely, He isn't done.
The steroids are showing good results so far. She is able to get them every 3-4 weeks as needed. She is coughing less and gets bursts of energy. We are still working on her nutrition and gaining weight for strength and energy. Slowly but surely she is starting to add some pounds.
We have been here before, we have heard there is nothing else we can do. Charlotte has been called an "anomaly" by some of the top doctors because her situation is so rare. I am praying these pulmonologists can say the same thing.
I'm not ready to lose my baby girl, the one who made me a mama first. I look at her eyes, her smile, I hear her laugh, and feel her snuggles. I never want to be without them. I CAN NOT imagine being without them. Her sisters need her, her daddy needs her, I need her! Every night Charlotte asks God to heal her lungs, please ask Him with her.
I need each of you to pray. Pray for Charlottes miracle, we need it.
"For it is the God who commanded light to shine out of darkness, who has shone in our hearts to give the light of the knowledge of the glory of God in the face of Jesus Christ.
Therefore we do not lose heart. Even though our outward man is perishing, yet the inward man is being renewed day by day."
‭‭II Corinthians‬ ‭4:6, 16‬ ‭NKJV‬‬